Today I was lucky enough to attend the California Teachers Summit.
I am a HUGE fan of webinars, MOOCs, and learning online. However, there is something different about being physically in a room with other teachers who are excited about learning and sharing.
We heard from some AMAZING speakers. I went back and forwards between what I want to share here. Do I want to share my emotions, ideas, and general feedback? Or let you know about what exactly happened.
In the end, I did what this blog is all about and melted the ideas together. So this blog will cover what I heard, along with a brief takeaway. There may be
7am-
I found the breakfast, coffee, and free parking :-) I found a table with another teacher. In the net hour we shared our random paths into education, our mutual struggles, and made "new" friends. I saw, "new" because it turns out one teacher taught my boyfriend at my high school, one taught with my mom, and I had just met Liana online (checkout her blog here) The teacher community is a small one!
Photo by vagueonthehow on flickr
The first keynote speaker was Yvette Nicole Brown, whom many people know from Community. She talked about how friggin' awesome teachers are. She declared that she is a "lover of teachers" "celebrator of teachers" "encourager of teachers" and a "cheerleader of teacher." Let's face it we are! At one time or another it We have all been known to go above or beyond for a student. Sometimes it feels like all we do is go above and beyond for our students.
She reminded me that it is worth it! All of the little things that we do add up!
She spoke of small things (a teacher remembering her name) to larger things (a teacher buying her a plane ticket to California).
She reminded me that part of my job is to push them past the here and now to the there and future.
As she reminded me of her childhood, and how students can't see anything other than what they see in their own day to day life. Finally, she told us the importance of having a tribe of people who support you and whom you support.
This is something I hear a lot lately. Teachers encouraging other teachers to support one another. I am slowly getting together a group of teachers I know are a great help to me, and I hope I am doing my part to help others as well.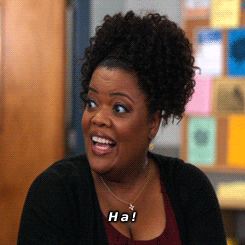 But our salaries well make up for it :-P
THANK YOU Yvette for being a cheerleader and reminding me that what I do is worth it. It reminds me a bit of an exchange I watched in NCIS the other day. One character is discouraged because despite all the god she tries to do she still sees so much bad. Agent Gibbs responds,
"You do something good now, you're not always around to see the difference it makes later." I think that is a LOT of teaching. As much as I would love to say that every student I try to help shows me that they appreciate my actions.... well that idea kinda makes me laugh. In fact, quite often the students I try to help the most are the ones who are convinced I am out to get them! With time, I get sporadic e-mails thanking me, but it is really important to remember that I am only planting seeds...I don't always get to see what grows.
Don't just take it from me check out what other teachers found the most inspiring:
— Lauren (@LaurenBeal) July 31, 2015
— Fresno State KSOEHD (@FresnoKremenEdu) July 31, 2015
@YNB

thank you for your inspiring stories about teachers who've mattered. So energizing!

#CATeacherSummit

— Letty Kraus (@LettyKraus) July 31, 2015
There will be another blog on the other speakers and sessions I attended coming up soon!